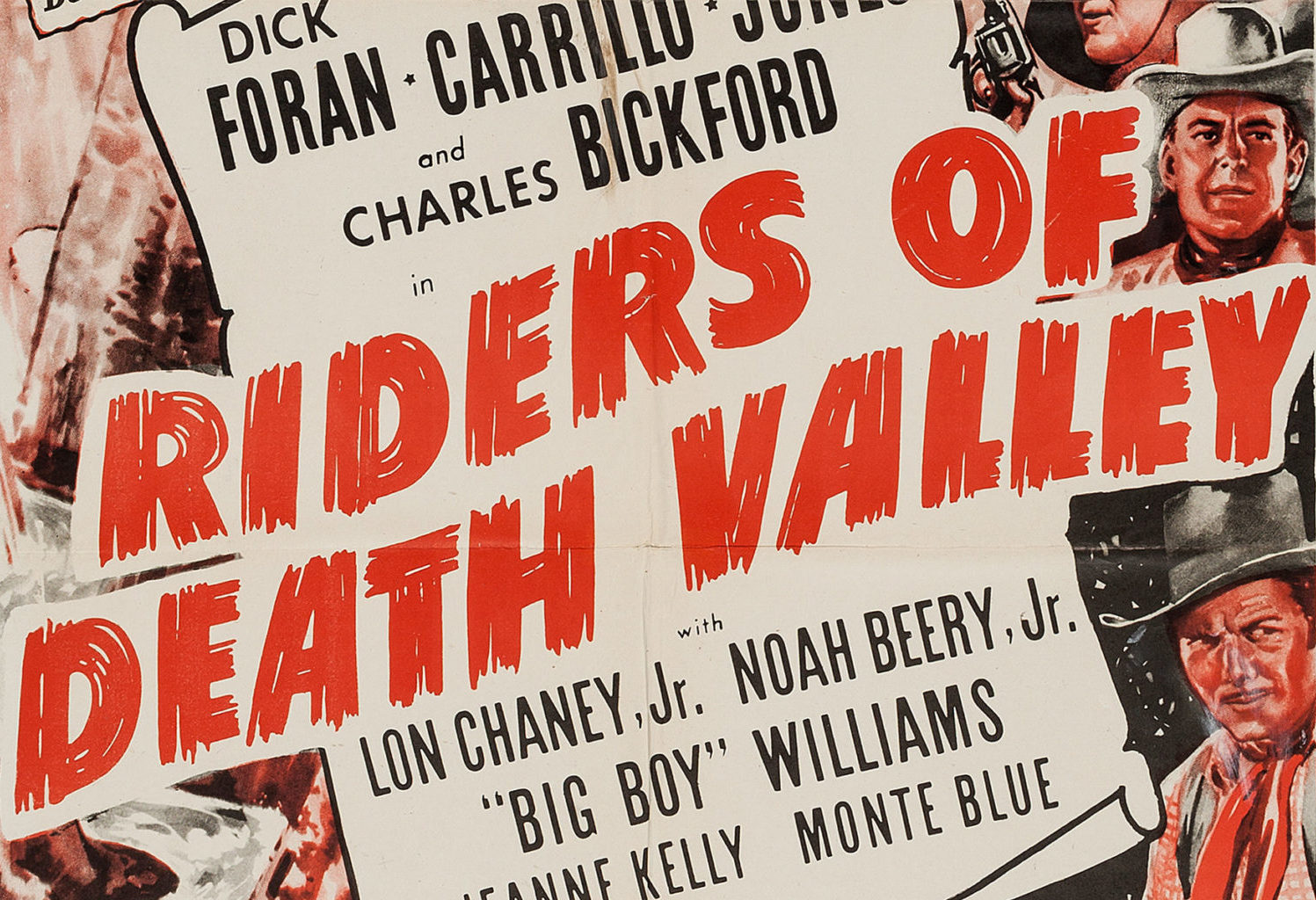 Riders of Death Valley
Cowboys and a businessman compete to find lost treasure.  
Riders of Death Valley is a 1941 Universal movie serial. It was a high budget serial with an all-star cast led by Dick Foran and Buck Jones. Ford Beebe and Ray Taylor directed. It also featured Lon Chaney Jr. in a supporting role as a villainous henchman.
Plot
The story centers about a group of vigilantes organized to protect miners in the picturesque but sinister days of the California gold strike. Jim Benton (Dick Foran) and Tombstone (Buck Jones) lead their "riders", Pancho Lopez (Leo Carrillo) , Smokey (Noah Beery Jr.), Borax Bill (Guinn 'Big Boy' Williams) and Tex (Glenn Strange), in a raid on a fake Protection League, organized by crooked connivers to gain control over the biggest claims in the Panamint region. They have barely restored peace and withdrawn to the saloon to be toasted by the grateful miners when the wounded Chuckawalla Charley Morgan (Frank Austin), an old desert rat, is carried in and reveals he has traced the Lost Aztec mine…a search in which he and Benton were partners, since the latter had grub-staked him. Chuckawalla asks Benton to give his share to his niece, Mary Morgan (Jean Brooks as Jeanne Kelly), and gasps his last breath. Just then, Benton gets a tip that Wolf Reade (Charles Bickford) and his gang of death valley terrorists, including Butch (Lon Chaney Jr.) , have made to plans to rob the incoming stagecoach, which has Mary and Tombstone as passengers. Reade kills the stagecoach driver before Benton's riders arrive, and the stagecoach horses careen toward a rickety mountain bridge…and death yawns below for Mary and Tombstone.

Cast
Dick Foran as Jim Benton, vigilante hero
Leo Carrillo as Pancho Lopez
Buck Jones as Tombstone
Charles Bickford as Wolf Reade, villain hired by Kirby and Davis
Guinn "Big Boy" Williams as Borax Bill
Lon Chaney, Jr. as Butch, one of Reade's henchmen
Noah Beery, Jr. as Smokey
Jean Brooks as Mary Morgan
James Blaine as Joseph Kirby, one of the mastermind villains
Monte Blue as Rance Davis, the other mastermind villain
Glenn Strange as Tex, a Benton Rider
Roy Barcroft as Dirk, one of Reade's henchmen
Jack Rockwell as Trigger, one of Reade's henchmen
Ethan Laidlaw as Rusty, one of Reade's henchmen
Richard Alexander as Pete Grump, one of Reade's henchmen