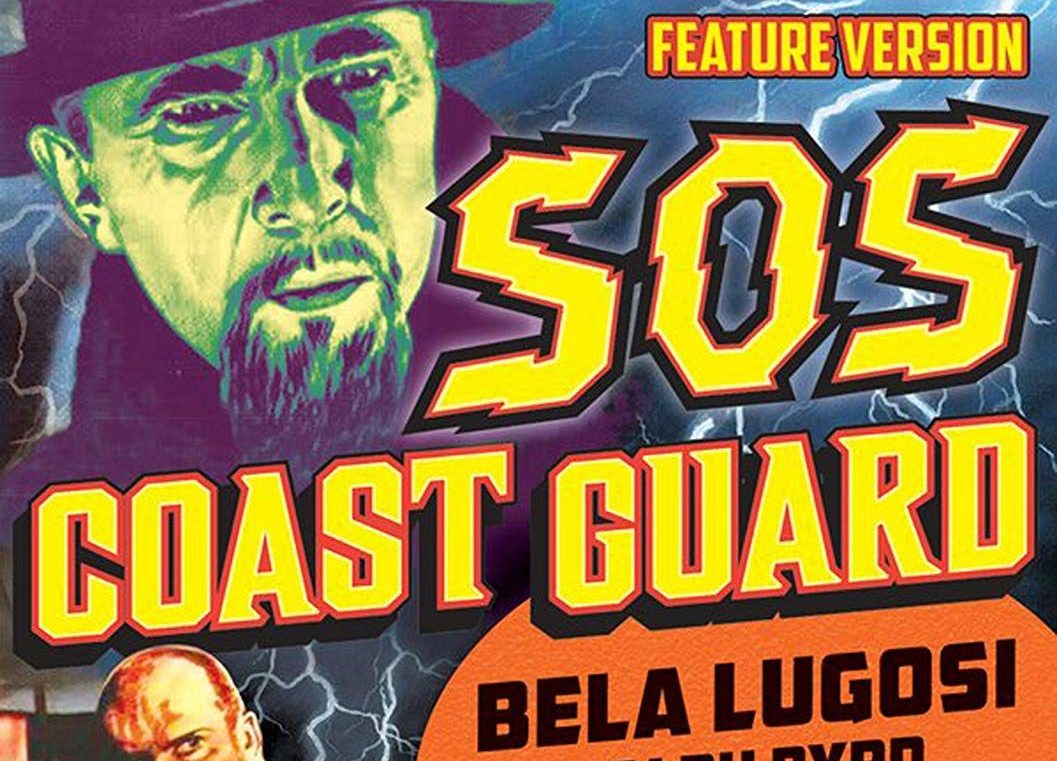 S.O.S. Coast Guard
A mad scientist tries to sell his formula for a dist integrating gas to foreign powers.
S O S Coast Guard is a 1937 Republic film serial. It was the seventh of the sixty-six serials made by Republic. The plot concerns the mad scientist Boroff (Bela Lugosi) attempting to sell a superweapon to the highest bidder, opposed by Coast Guard Lieutenant Terry Kent (Ralph Byrd), for both personal and professional reasons.
The main stars were Bela Lugosi and Ralph Byrd. It was made during the 2-year period when the Hayes Office put a moratorium on horror movies, Lugosi's usual genre, and in the midst of Byrd's notoriety for the highly popular Dick Tracy serials.
Plot
Boroff is a mad scientist who has invented a "disintegrator gas" and plans to smuggle it to his buyers in Morovania. When his ship, the Carfax, gets stranded on outlying rocks in the first chapter, the Coast Guard comes to rescue him. Recognised by the reporters, Jean and Snapper, Boroff runs and kills the pursuing coast guard Ensign Jim Kent, who turns to be Lt Terry Kent's brother.
As the gas is made from the rare substances Arnatite (which is radioactive) and Zanzoid, Boroff attempts to acquire more of these materials to create more (including salvaging supplies of arnatite from the sunken Carfax). Hot on his heels are the Coast guard, led by Lt Kent, and the two reporters, with the expert aid of Jean's chemist brother, Dick.
Eventually Terry finds, and leads a squad against, Boroff's cave-based hideout, with disintegrator gas bombs exploding around them.

Cast
Ralph Byrd as Terry Kent, Coast guard lieutenant
Bela Lugosi as Boroff, Mad scientist. The name is very similar, and possibly based on, that of Bela Lugosi's rival, Boris Karloff.
Maxine Doyle as Jean Norman, Reporter. Maxine later married the director William Witney after meeting him for the first time during production of this serial.
Richard Alexander as Thorg, mute, lobotomised servant of Boroff
Lee Ford as Snapper McGree, Reporter
Herbert Rawlinson as Boyle, Coast guard commander
John Picorri as G. A. Rackerby, Scientist-henchman working for Boroff
Lawrence Grant as Rabinisi, Boroff's henchman
Thomas Carr as Jim Kent, Terry's brother and a Coast guard ensign
Carleton Young as Dodds, Boroff's henchman
Allen Connor as Dick Norman, Jean's brother and Chemist
George Chesebro as L.H. DeGado, Boroff's henchman
Ranny Weeks as Wies, Boroff's henchman