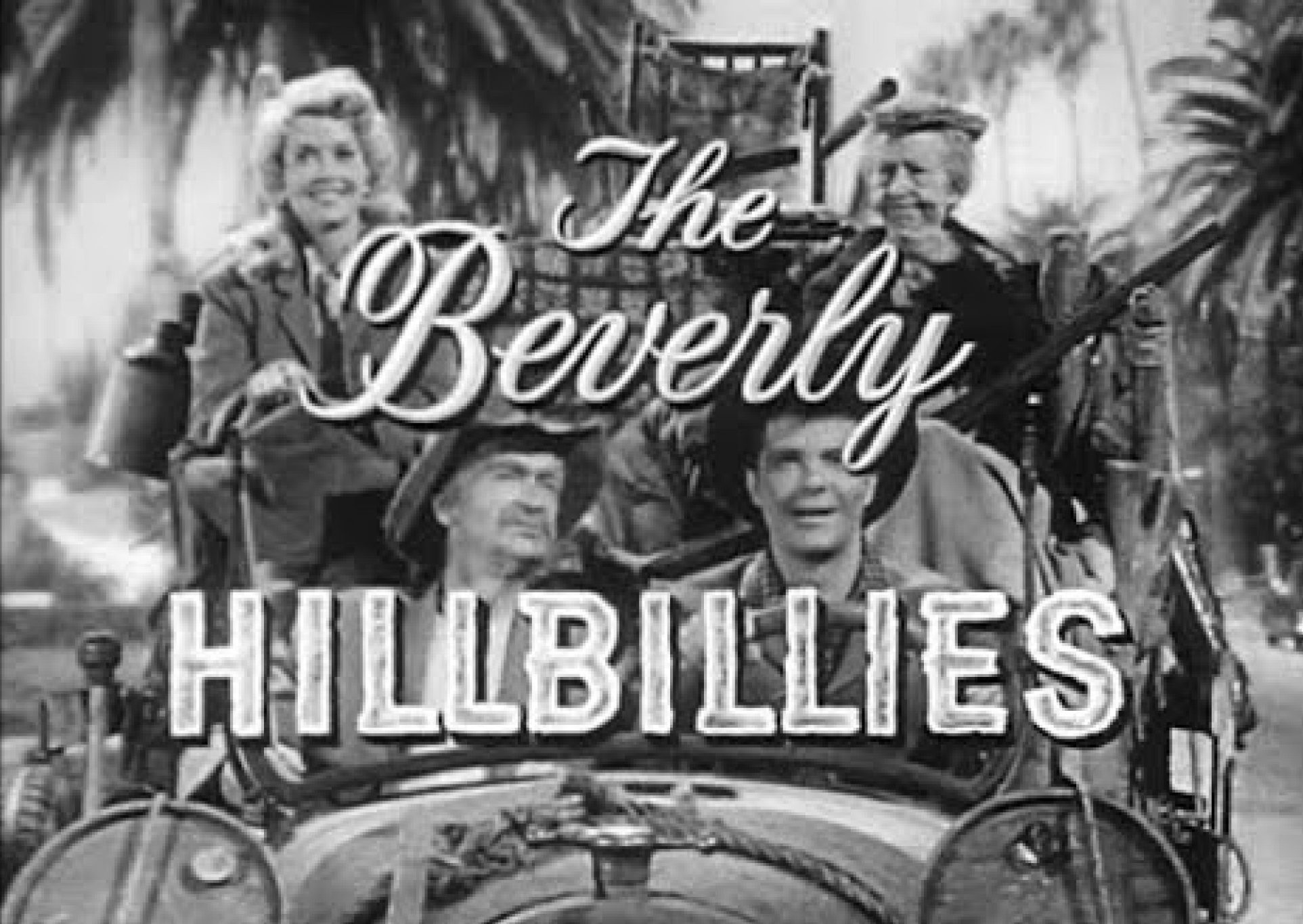 The Beverly Hillbillies
A nouveau riche hillbilly family moves to Beverly Hills and shakes up the privileged society with their hayseed ways.
The Beverly Hillbillies is an American situation comedy television series broadcast on CBS from 1962 to 1971. The show had an ensemble cast featuring Buddy Ebsen, Irene Ryan, Donna Douglas, and Max Baer Jr. as the Clampetts, a poor backwoods family from the Ozarks region who move to posh Beverly Hills, California after striking oil on their land. The show was produced by Filmways and was created by writer Paul Henning. It was followed by two other Henning-inspired "country cousin" series on CBS: Petticoat Junction and its spin-off Green Acres, which reversed the rags-to-riches, country-to-city model of The Beverly Hillbillies.
The Beverly Hillbillies ranked among the top 20 most-watched programs on television for eight of its nine seasons, twice ranking as the number one series of the year, with 16 episodes that remain among the 100 most-watched television episodes in history. It accumulated seven Emmy nominations during its run. The series remains in syndicated reruns, and its ongoing popularity spawned a 1993 film remake by 20th Century Fox.

Plot
The series starts as Jed Clampett, an impoverished and widowed mountaineer, is living alongside an oil-rich swamp with his daughter and mother-in-law. A surveyor for the OK Oil Company realizes the size of the oil field, and the company pays him a fortune for the right to drill on his land. Patriarch Jed's cousin Pearl Bodine prods him to move to California after being told his modest property could yield $25 million (equivalent to $211,000,000 in 2019), and pressures him into taking her son Jethro along. The family moves into a mansion in wealthy Beverly Hills, California, next door to Jed's banker, Milburn Drysdale and his wife, Margaret who has zero tolerance for hillbillies. The Clampetts bring a moral, unsophisticated, and minimalistic lifestyle to the swanky, sometimes self-obsessed and superficial community. Double entendres and cultural misconceptions are the core of the sitcom's humor. Plots often involve the outlandish efforts Drysdale makes to keep the Clampetts' money in his bank and his wife's efforts to rid the neighborhood of those hillbillies. The family's periodic attempts to return to the mountains are often prompted by Granny's perceiving a slight from one of the "city folk".

Cast
Buddy Ebsen as J. D. "Jed" Clampett, the widowed patriarch and head of the household.
Irene Ryan as Daisy May ("Granny") Moses, Jed's mother-in-law and Elly May's Grandmother.
Donna Douglas as Elly May Clampett, Jed's beautiful tomboy daughter
Max Baer Jr. as Jethro Bodine, the brawny, half-witted son of Jed's cousin Pearl.
Raymond Bailey as Milburn Drysdale, Jed's greedy, unscrupulous banker
Nancy Kulp as Miss Jane Hathaway, Drysdale's scholarly, "plain Jane" secretary
Harriet MacGibbon as Margaret Drysdale, Mr. Drysdale's ostentatious wife
Bea Benaderet as Jed's cousin Pearl (season 1)