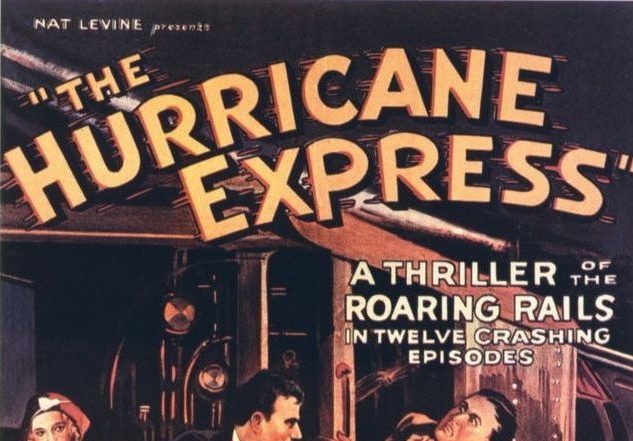 The Hurricane Express
When his father is killed in a train wreck, Larry Baker vows to unmask a mysterious criminal called "The Wrecker," who has targeted the L&M Railroad for deadly" accidents."
The Hurricane Express is a 1932 American Pre-Code 12-chapter Mascot Pictures film serial. Written by Colbert Clark, Barney Sarecky, Wyndham Gittens, George Morgan, and J.P. McGowan, the serial was directed by Armand Schaeffer and J.P. McGowan and produced by Nat Levine. The Hurricane Express stars John Wayne as aircraft pilot Larry Baker. Wayne goes after a mystery villain named "The Wrecker", who was responsible for a train crash that killed Baker's father.

Plot
The L & R Railroad is in competition with an airline for lucrative transport contracts. When the "Hurricane Express" is sabotaged and involved in a train wreck, one of his victims is Larry Baker's father, Jim (J. Farrell MacDonald). A mysterious figure, known as "The Wrecker" is responsible for the train crashes. Air Transport Company pilot Baker (John Wayne), wants to find "The Wrecker", but, among a host of suspects, it will be difficult since the murderer can disguise himself to look like almost anyone.
One of the main suspects in the train crashes is Walter Gray (Lloyd Whitlock), the airline manager and Larry's boss, who stands to gain if the L & R Railroad loose contracts. Suspicion is also cast on Tom Jordan (Matthew Betz), a recently discharged and disgruntled railroad engineer. Another possibility is that Frank Stratton (Edmund Breese), an escaped convict who had wrongfully been convicted, may be "The Wrecker". Complicating matters is that Gloria Stratton (Shirley Grey) is Frank Stratton's daughter, and Larry is in love with her.
Gloria tries to help Larry find the villains behind the train crashes, and when the "Hurricane Express" is again ready to go back into service, the pair are in air, flying as an escort to the speeding train. With a full load of gold, the train is a tempting target for "The Wrecker".
The continuing attacks on the L & R Railroad put Gloria and Larry in danger, but they are determined to bring "The Wrecker" and his gang to justice. Finally, the young pilot is able to capture the murderers and with Gloria, is able to look forward to a happy future together.

Cast
Tully Marshall as Howard L. Edwards, Railroad manager
Conway Tearle as Stevens, Railroad attorney
John Wayne as Larry Baker
Shirley Grey as Gloria Stratton, aka Gloria Martin
Edmund Breese as Frank Stratton, Gloria's father
Lloyd Whitlock as Walter Gray, Airline manager
Al Bridge as Carlson, Plainville station agent
Matthew Betz as Tom Jordan, a railroad engineer
Joseph W. Girard as Detective Matthews
James P. Burtis as Detective Hemingway, Matthews' assistant
Ernie Adams as Henchman Barney, The Wrecker's machine gunner henchman
Charles King as Mike, one of The Wrecker's henchmen
J. Farrell MacDonald as Jim Baker, a railroad engineer (Larry Baker's Dad)
Al Ferguson as Sandy, The Wrecker's pilot
Glenn Strange as Jim, one of The Wrecker's henchmen
Fred "Snowflake" Toones as Sam, the Porter (uncredited)
Yakima Canutt as Henchman (uncredited)