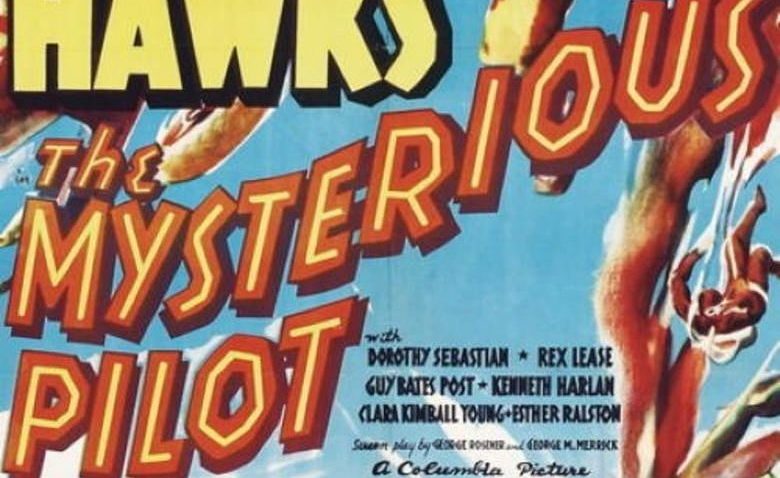 The Mysterious Pilot (coming soon)
A 15-episode serial in which our hero, Jim Dorn helps hide Jean McNain from a man she can implicate in a murder.
The Mysterious Pilot is a 15-episode 1937 Columbia movie serial based on the book by William Byron Mowery and starring the record-breaking aviator Frank Hawks. This was the second serial produced by Columbia. In the serial, Hawks plays a flying "mountie".
Plot
Carter Snowden (Kenneth Harlan) about to marry Jean McNain (Dorothy Sebastian), is accused of murder. When his accuser is killed, Jean flees the train she is on, and heads into the Canadian woods. Snowden sends a bodyguard to find Jean, who appeals to RCMP Captain Jim Down (Frank Hawks) for help. With his friend "Kansas" (Rex Lease) and Indian Luke (Yakima Canutt), Jim hides Jean.
Snowden tracks down Jean and tries to lure her to his aircraft by telling her that Jim is injured and needs her. As soon as they realize what has happened, Jim and Kansas take to the air and force Snowden's aircraft down. Jean is unhurt but Snowden dies in the crash. Trying to get down to Jean, Jim's parachute gets tangled in the trees and Jean ends up rescuing him.
Cast
Frank Hawks as Captain Jim Down
Dorothy Sebastian as Jean McNain
Esther Ralston as Vivian McNain
Rex Lease as RCAF Sergeant "Kansas" Eby
Guy Bates Post as "Papa" Bergelot
Kenneth Harlan as Carter Snowden
Yakima Canutt as Indian Luke
George Rosener as Fritz
Clara Kimball Young as Martha, Fritz's Wife
Frank Lackteen as Yoroslaff, a henchman
Harry Harvey as "Soft Shoe" Cardigan, a henchman
Tom London as Kilgour, a henchman
Bob Walker as Boyer, a lumberjack henchman
Ted Adams as Carlson, a henchman