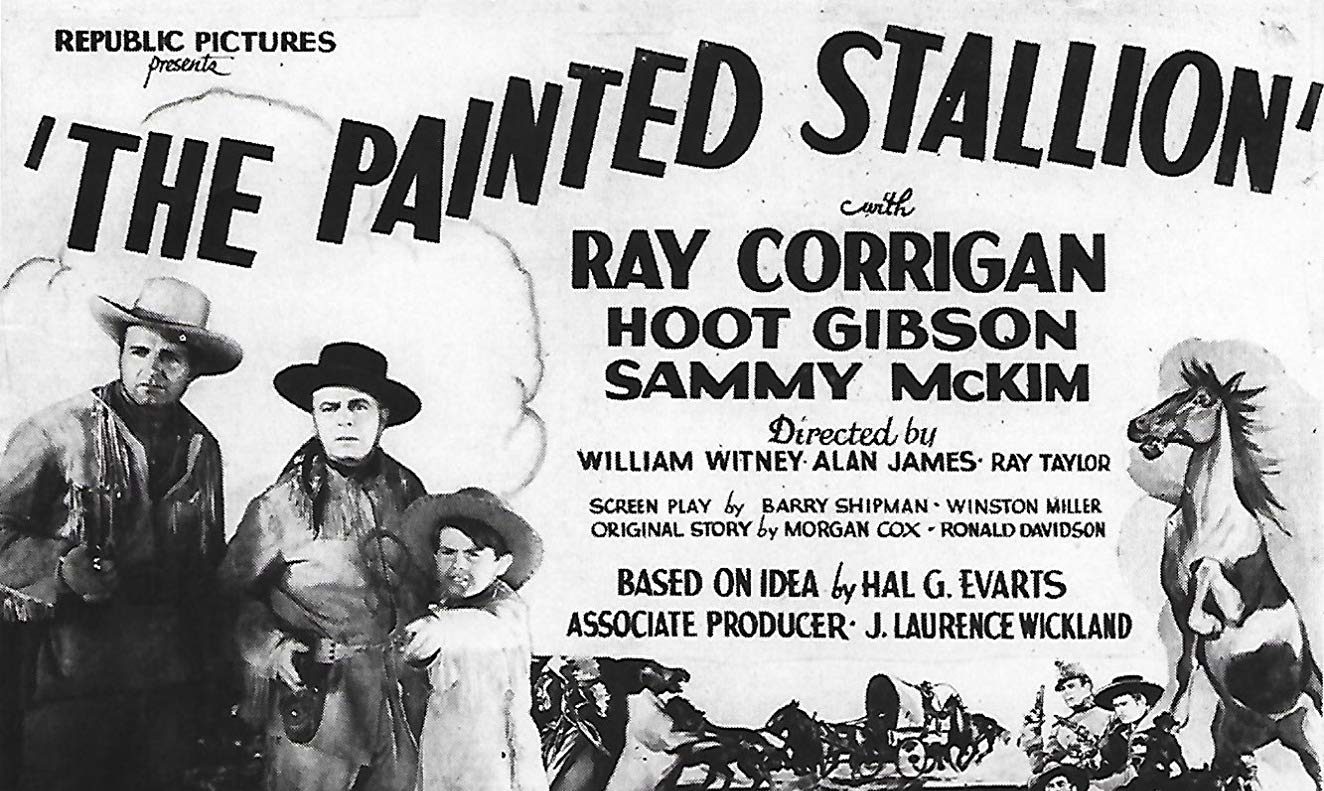 The Painted Stallion
The period is the 1820's and the first wagon train leaves Independence heading west to Santa Fe. In order to maintain his power, the ruthless Official at Santa Fe must not let them arrive and he sends out his men to stop them. The wagon train then has to endure repeated attacks but is aided by a mysterious rider that shoots singing arrows and rides a painted stallion.
The Painted Stallion is a 1937 Republic movie serial. It was the sixth Republic serial of the sixty-six made by that company. Western serials such as this made up a third of the serials from Republic, a studio that was also heavily involved in making B-Western feature films at the time.
This serial saw the directorial debut of William Witney, who would become one of the star directors at Republic. It was not until Zorro Rides Again, later in 1937, that he first worked with his famous directorial partner, John English. Witney had been working as an editor on earlier serials but made the switch when another director became unable to work due to heavy drinking.

Plot
A wagon train travelling from Independence, Missouri to Santa Fe means trouble for Alfredo Dupray, his authority from Spain will end with the arrival of a Mexican Governor. He plots to solve this by intercepting a trade agreement, to be negotiated by Clark Stuart on the wagon train, and disrupt Mexico–United States relations.
Repeated attacks are thwarted, however, by the appearance of a mysterious Rider on a Painted Stallion who issues warnings with her whistling arrows. With her help Clark Stuart, along with historical characters, Kit Carson, Jim Bowie and Davy Crockett work to defeat Dupray. Eventually, they assist the arrival of the United States Cavalry and the treaty is signed, leaving Stuart and the Rider to ride away together.

Cast
Ray "Crash" Corrigan as Clark Stuart, government official with a trade treaty to be agreed with Mexico
Hoot Gibson as Walter Jamison, Leader of the Wagon train
LeRoy Mason as Alfredo Dupray, Spanish dictator determined to hold onto power
Julia Thayer as 'The Rider', a mysterious woman on a painted stallion, believed to be an Indian Spirit riding a Ghost Horse
Duncan Renaldo as 'Zamorro', one of Dupray's henchmen
Sammy McKim as Young Christopher 'Kit' Carson, along as part of the wagon train
Hal Taliaferro as Jim Bowie, along as part of the wagon train
Jack Perrin as Davy Crockett, along as part of the wagon train
Ed "Oscar" Platt and Lou Fulton as 'Oscar and Elmer', a comedy duo with the wagon train
Yakima Canutt as 'Tom', one of Dupray's henchmen
Matson Williams as 'Macklin', one of Dupray's henchmen undercover on the wagon train
Duke Taylor as 'Bill', one of Dupray's henchmen
Loren Riebe as 'Pedro', one of Dupray's henchmen
George DeNormand as 'Oldham', one of Dupray's henchmen undercover on the wagon train
Gordon De Main as 'Governor'
Charles King as 'Bull Smith', one of Dupray's henchmen
Vinegar Roan as 'Pete', one of Dupray's henchmen