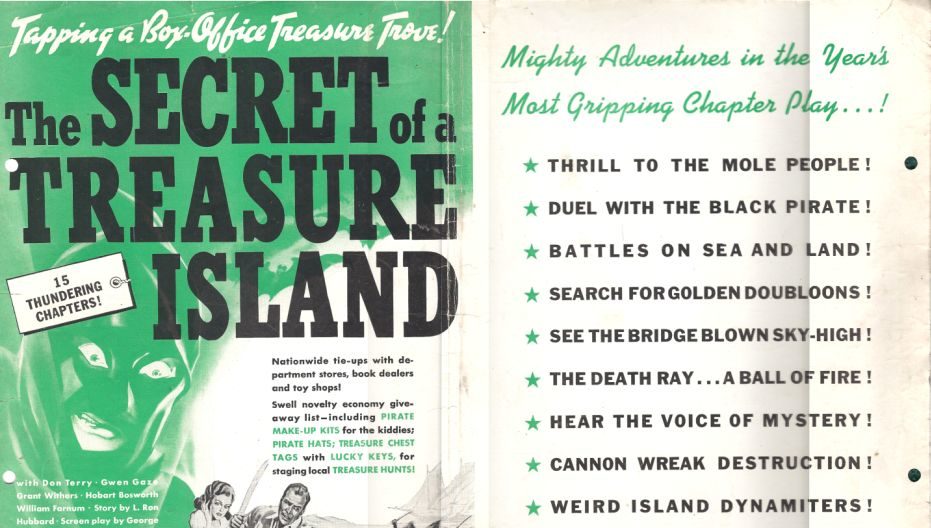 The Secret of Treasure Island (coming soon)
A variety of people are searching for a long-hidden treasure somewhere on an island.
The Secret of Treasure Island is a 1938 Columbia movie serial based on Robert Louis Stevenson's novel Treasure Island. The serial is broken into fifteen chapters. Reporter Larry Kent travels to an island in the Caribbean to investigate the disappearance of his colleague, and discovers that the island contains a lost treasure trove of gold. Kent meets Toni Morrell, the daughter of a shipmate whose partner knew the location of the treasure, who helps him in his investigation and they search for the treasure together. During their investigation they are opposed by a villain named Collins and Dr. X., who attempts to kill Kent. Kent defeats Dr. X. in the final installment of the serial.
The story was written by L. Ron Hubbard, at the time a writer of pulp fiction who went on to found the Scientology religion. Associate producer Louis Weiss hired Elmer Clifton to direct, and Yakima Canutt worked on the action sequences. The serial was well received by fans, and William C. Cline wrote positively of the action sequences in his book In the Nick of Time: Motion Picture Sound Serials. The serial received a one and a half star rating from Allmovie.

Plot
The serial is set on a remote island in the Caribbean, where reporter Larry Kent (Don Terry) and his enemies search for a lost treasure trove of gold. Kent arrives on the island in search of another reporter who had gone missing. Kent discovers that valuable lost treasure is buried on the island, and finds half of a map which holds a clue to its location. Toni Morrell (Gwen Gaze), the daughter of a shipmate whose murdered partner knew where the treasure was buried, agrees to help Kent investigate his friend's disappearance and locate the treasure. Morrell and Kent are opposed by a villain named Collins (Walter Miller) who uses his henchmen and supply of weapons and land mines in an attempt to stop them. Kent's enemy in the film is Dr. X. (Hobart Bosworth) who wears a skull mask and pirate clothing, and is in the process of developing a powerful explosive. Due to the actions of Dr. X., Kent is nearly buried alive, killed with dynamite and slashed in a sword battle. He defeats Dr. X. in the last installment of the serial titled "Justice".

Cast
Don Terry as Larry Kent, a reporter investigating the disappearance of a colleague in the area
Gwen Gaze as Toni Morrell
Walter Miller as Carter 'The Shark' Collins, owner of the island
Grant Withers as Roderick Gridley
George Rosener as Capt. Samuel Cuttle
Hobart Bosworth as Dr X.
Sandra Karina as Nurse Zanya
Patrick J. Kelly as Professor Gault
Yakima Canutt as Dreer, Leader of the Mole Men, Collins' slave diggers
William Farnum as George Brennan Westmore