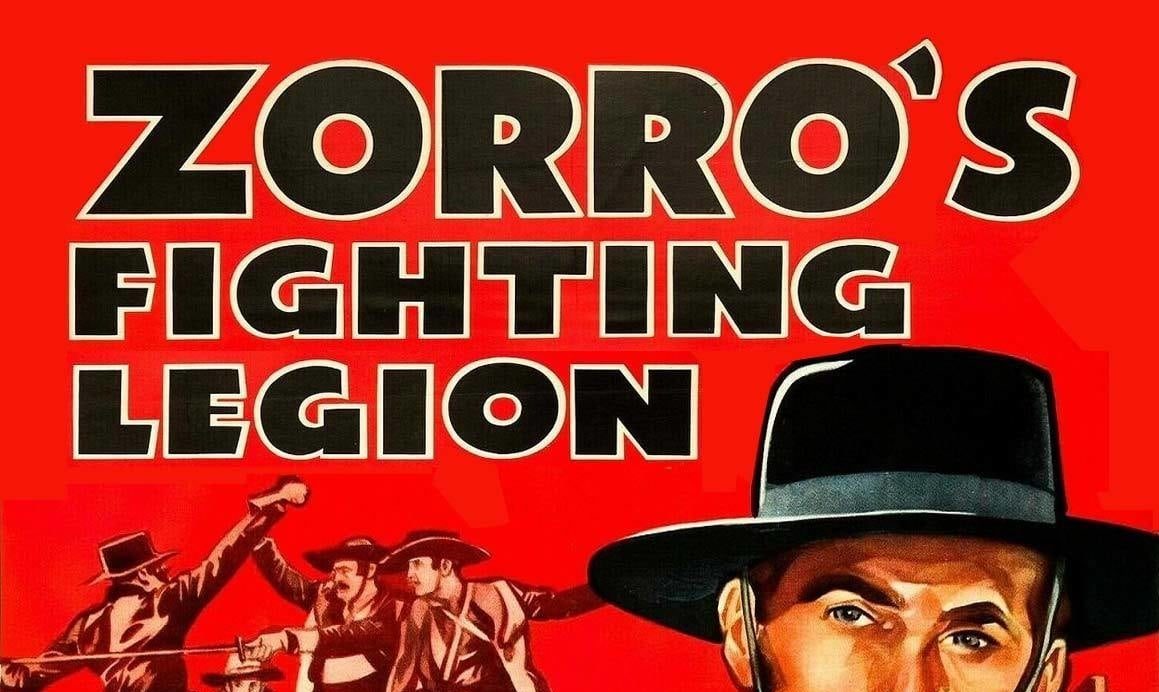 Zorro's Fighting Legion
The masked hero leads a fighting force to fight a villian who plots the conquest of The Republic of Mexico.
Zorro's Fighting Legion is a 1939 Republic Pictures film serial consisting of twelve chapters starring Reed Hadley as Zorro and directed by William Witney and John English. The plot revolves around his alter-ego Don Diego's fight against the evil Don Del Oro.
The serial is unusual in featuring a real historical personage, Mexican President Benito Juárez, as a minor character. It is the second in a series of five Zorro serials: Zorro Rides Again (1937), Zorro's Black Whip (1944), Son of Zorro (1947) and Ghost of Zorro (1949).

Plot
The mysterious Don Del Oro ("Lord of Gold"), an idol of the Yaqui, emerges and attacks the gold trade of the Republic of Mexico, intent on becoming Emperor. A man named Francisco is put in charge of a fighting legion to combat the Yaqui tribe and protect the gold; he is attacked by men working for Don Del Oro. Francisco's partner recognizes Zorro as the hidalgo Don Diego Vega. Francisco asks Diego, as Zorro, to take over the fighting legion and defeat Don Del Oro.

Cast
Reed Hadley as Don Diego Vega/Zorro
Sheila Darcy as Volita
William Corson as Ramón
Leander De Cordova as Governor Felipe
Edmund Cobb as Manuel González
John Merton as Comandante Manuel
C. Montague Shaw as Chief Justice Pablo/Don Del Oro
Budd Buster as Juan
Carleton Young as Benito Juárez
Bud Geary as Don Del Oro (body and voice)