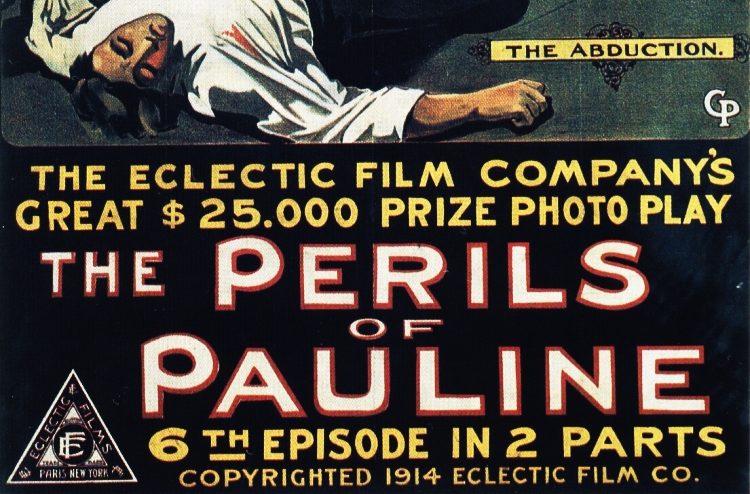 Perils of Pauline
Young Pauline is left a lot of money when her wealthy uncle dies. However, her uncle's secretary has been named as her guardian until she marries, at which time she will officially take possession of her inheritance. Meanwhile, her "guardian" and his confederates constantly come up with schemes to get rid of Pauline so that he can get his hands on the money himself.
The Perils of Pauline is a 1914 American melodrama film serial shown in weekly installments, featuring Pearl White as the title character. Pauline has often been remembered as a famous example of a damsel in distress, although contemporaneous reception and some analyses hold that her character was more resourceful and less helpless than the classic damsel stereotype, and she was therefore a considerable influence on early female audiences and attracted much critical attention. Pauline is menaced by assorted villains, including pirates and Indians. Despite popular associations, Pauline was never tied to railroad tracks in the series, an image that comes instead from contemporaneous films such as Barney Oldfield's Race for a Life.
The serial had 20 episodes, the first being three reels (30 minutes), and the rest two reels (20 minutes) each. After the original run, it was reshown in theaters a number of times, sometimes in edited, shortened versions, through the 1920s. Today, The Perils of Pauline is known to exist only in a shortened 9-chapter version (approximately 214 minutes), released in Europe in 1916.
In 2008, The Perils of Pauline was selected by the Library of Congress for the United States National Film Registry, as being "culturally, historically, or aesthetically significant".
Plot
The premise of the story was that Pauline's wealthy guardian Mr. Marvin, upon his death, has left her inheritance in the care of his secretary, Mr. Koerner, until the time of her marriage. Pauline wants to wait a while before marrying, as her dream is to go out and have adventures to prepare herself for becoming an author. Mr. Koerner, hoping to ultimately keep the money for himself, tries to turn Pauline's various adventures against her and have her "disappear" to his own advantage.
Cast
Pearl White as Pauline
Crane Wilbur as Harry Marvin
Paul Panzer as Koerner / Raymond Owen
Edward José as Sanford Marvin
Francis Carlyle as Owen's Henchman, Hicks
Clifford Bruce as Gypsy Leader
Donald MacKenzie as Blinky Bill
Jack Standing as Lieutenant Summers
Eleanor Woodruff as Lucille