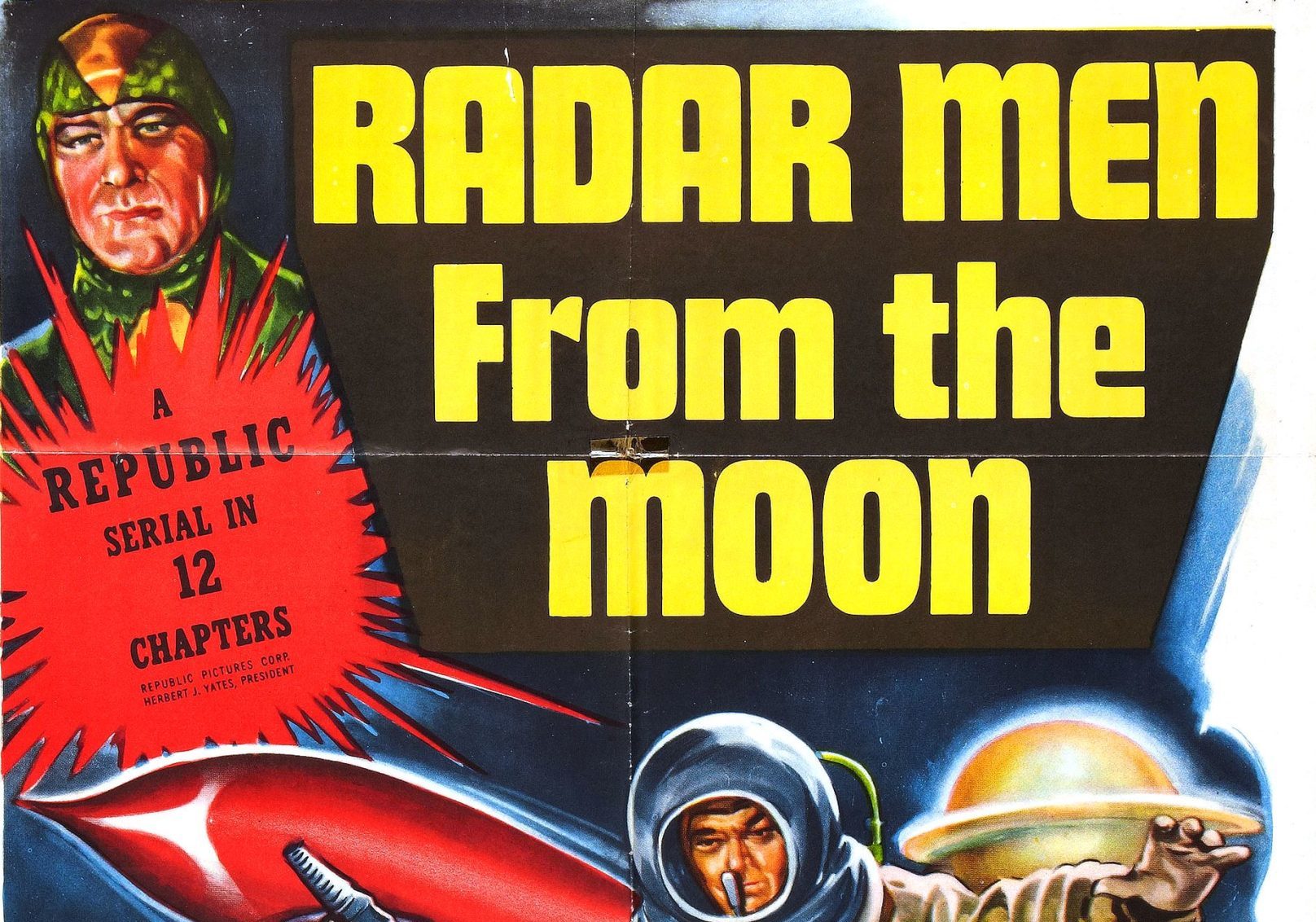 Radar Men from the Moon
Strategic targets on Earth are being destroyed by an unknown weapon. Government security head Henderson suspects it's an "atomic ray" originating from the moon! He assigns Commando Cody, scientist and man of action with a secret flying suit, to investigate. Soon, Cody is battling Earth thugs in the pay of Krog the moon man and making trips in his experimental rocket to the moon itself, in a perilous and all but singlehanded effort to thwart the planned invasion of Earth.
Radar Men from the Moon is a 1952 black-and-white Republic Pictures' 12-chapter movie serial, the first Commando Cody serial starring newcomer George Wallace as Cody, Aline Towne as his sidekick Joan Gilbert, and serial veteran Roy Barcroft as the evil Retik, the Ruler of the Moon. The director was Fred C. Brannon, with a screenplay by Ronald Davidson, and special effects by the Lydecker brothers. This serial recycles the flying sequences from Republic's earlier 1949 serial King of the Rocket Men. It was later released by Republic in 1966 as the 100-minute television film Retik the Moon Menace.

Plot
Commando Cody (George Wallace) is a civilian researcher and inventor with a number of employees. He uses a streamlined helmet and a sonic-powered rocket backpack attached to a leather flying jacket. Cody also uses a rocket ship capable of reaching the Moon. When the U. S. finds itself under attack from a mysterious force that can wipe out entire military bases and industrial complexes, Cody surmises (correctly) that the Earth is coming under attack from our own Moon. He then flies his rocket ship there and confronts the Moon's dictator, Retik (Roy Barcroft), who boldly announces his plans to both conquer Earth and then move the Moon's entire population here using spaceships.
During the next 11 serial chapters, Cody, now back on Earth, and his associates Joan (Aline Towne), Ted (William Bakewell) and Dick (Gayle Kellogg) battle an elusive lunar agent named Krog (Peter Brocco) and his gang of human henchmen led by Graber (Clayton Moore) and Daly (Bob Stevenson), who use Lunarium-powered ray cannons to disrupt defense forces and weaken public morale. After a second trip to the Moon, in which he captures a sample ray cannon for duplication in his lab, Cody tracks Retik's minions to their hideout where Krog is killed by one of his own devices, and Graber and Daly subsequently die in an over-the-cliff car chase. Retik flies to Earth to take personal charge of his collapsing operations but is blasted out of the sky by one of his own ray weapons.

Cast
George Wallace as Commando Cody.
Aline Towne as Joan Gilbert
Roy Barcroft as Retik, Ruler of the Moon.
William Bakewell as Ted Richards
Peter Brocco as Krog
Clayton Moore as Graber
Bob Stevenson as Daly
Don Walters as Govt. Agent Henderson