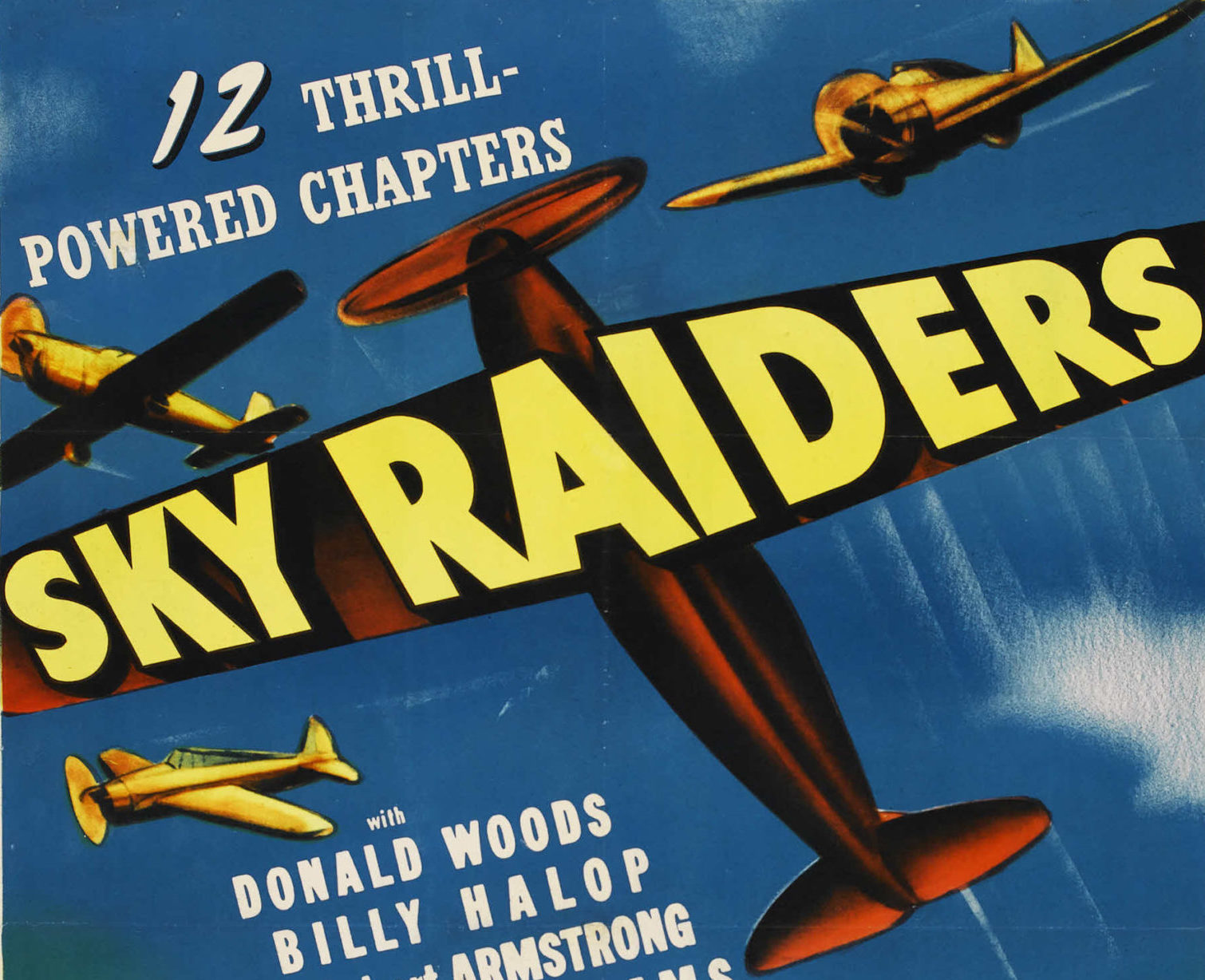 Sky Raiders
Enemy spies try to steal a new fighter plane.
Sky Raiders is a 12-episode 1941 Universal film serial. The serial was directed by Ford Beebe and Ray Taylor. Sky Raiders stars Donald Woods, Billy Halop, Robert Armstrong and Eduardo Ciannelli. Sky Raiders has little in common with Universal's other early-1940s espionage outings like Sea Raiders or Junior G-Men, although the serial is often lumped in together as if it is part of a series.
Plot
Former World War I ace pilot Captain Bob Dayton, (Donald Woods) is the owner of Sky Raiders, Inc., an aircraft company. Dayton has designed a bombsight and a new high speed fighter aircraft, the "Sky Raider". Dayton recruits young Tim Bryant (Billy Halop), a member of Air Youth of America, to help him.
Nazi agent Felix Lynx (Eduardo Ciannelli) attempts to steal these designs for his own country. Lynx is determined to seize this valuable new aircraft, with the help of his female accomplice Innis Clair (Jacqueline Dalya) and of a criminal named John KAne who happens to be a perfect double for Dayton. All attempts, however, to steal the fighter aircraft prototype, fail.
Dayton's new bombsight is being tested in Hawaii, and Lynx intercepts a Sikorsky S-45 flying boat on the way to Honolulu. After it is shot down, Dayton and his secretary Mary Blake (Kathryn Adams) who were on board, were rescued by a government cutter.
Lieutenant Carry (Robert Armstrong) and Tim meet the survivors but find that Lynx has sent his henchmen to finish the job. The foreign agents are killed when they hit an oncoming truck. Mary announces that she has become Mrs. Dayton.

Cast
Donald Woods as Captain Bob Dayton / John Kane, World War I ace and co-owner of Sky Raiders, Inc.
Billy Halop as Tim Bryant, member of the Air Youth of America
Robert Armstrong as Lieutenant Ed Carey, co-owner of Sky Raiders, Inc.
Eduardo Ciannelli as Felix Lynx, Nazi agent
Kathryn Adams as Mary Blake, Sky Raiders, Inc.'s secretary
Jacqueline Dalya as Innis Clair
Jean Fenwick as The Countess Irene
Reed Hadley as Caddens, one of Lynx's henchmen
Irving Mitchell as R.S. Hinchfield
Edgar Edwards as Teal, one of Lynx's henchmen
John Holland as Hess, one of Lynx's henchmen
Roy Gordon as Major General Fletcher
Alex Callam as Captain Long
Phil Warren as Bakeman, the crackpot with gun
Bill Cody, Jr. as Jack Hurd, a young boy