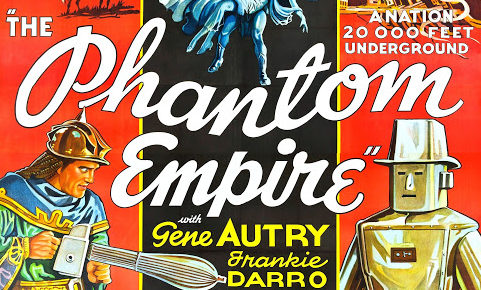 The Phantom Empire
When the ancient continent of Mu sank beneath the ocean, some of its inhabitant survived in caverns beneath the sea. Cowboy singer Gene Autry stumbles upon the civilization, now buried beneath his own Radio Ranch. The Muranians have developed technology and weaponry such as television and ray guns. Their rich supply of radium draws unscrupulous speculators from the surface. The peaceful civilization of the Muranians is corrupted by the greed from above, and it becomes Autry's task to prevent all-out war, ideally without disrupting his regular radio show.
The Phantom Empire is a 1935 American Western serial film directed by Otto Brower and B. Reeves Eason and starring Gene Autry, Frankie Darro, and Betsy King Ross. This 12-chapter Mascot Pictures serial combined the western, musical, and science fiction genres. The first episode is 30 minutes, the rest about 20 minutes. The serial film is about a singing cowboy who stumbles upon an ancient subterranean civilization living beneath his own ranch that becomes corrupted by unscrupulous greedy speculators from the surface. In 1940, a 70-minute feature film edited from the serial was released under the titles Radio Ranch or Men with Steel Faces. This was Gene Autry's first starring role, playing himself as a singing cowboy.

Plot
Gene Autry (Gene Autry) is a singing cowboy who runs Radio Ranch, a dude ranch from which he makes a daily live radio broadcast at 2:00 pm. Gene has two kid sidekicks, Frankie Baxter (Frankie Darro) and Betsy Baxter (Betsy King Ross), who lead a club, the Junior Thunder Riders, in which the kids play at being armored knights of an unknown civilization, the mysterious Thunder Riders who make a sound like thunder when they ride. The kids, dressing up in capes and water-bucket helmets, play at riding "To the rescue!" (their motto).
A chance to become real heroes occurs when Betsy, Frankie, and Gene are kidnapped by the real Thunder Riders from the super-scientific underground empire of Murania, complete with towering buildings, robots, ray-guns, advanced television, elevator tubes that extend miles from the surface, and the icy, blonde, evil Queen Tika. On the surface, criminals led by Professor Beetson plan to invade Murania and seize its radium wealth, while in Murania, a group of revolutionaries plots to overthrow Queen Tika.
The inhabitants of Murania are the lost tribe of Mu, who went underground in the last glacial period 100,000 years ago, and now live in a fantastically advanced city 25,000 feet below the surface. They cannot now breathe the air at ground level and must wear oxygen masks. (Surface dwellers have no trouble breathing Muranian air.) The Thunder Guard emerges to the surface world from a cave with a huge rock door that swings up like a garage door. Both Muranians and Professor Beetson want to get rid of Autry, so he loses his radio contract and Radio Ranch is vacated.

Cast
Gene Autry as Gene Autry, singing cowboy at the Radio Ranch
Frankie Darro as Frankie Baxter, one of Gene's sidekicks
Betsy King Ross as Betsy Baxter, one of Gene's sidekicks
Dorothy Christy as Queen Tika, the evil queen of Murania
Wheeler Oakman as Lord Argo, the Muranian High Chancellor and leader of the rebels
Charles K. French as Mal
Warner Richmond as Rab
J. Frank Glendon as Professor Beetson, the villainous scientist after the land's radium deposits
Smiley Burnette as Oscar, comic relief
Peter Potter as Pete, comic relief
Edward Peil Sr. as Cooper
Jack Carlyle as Saunders