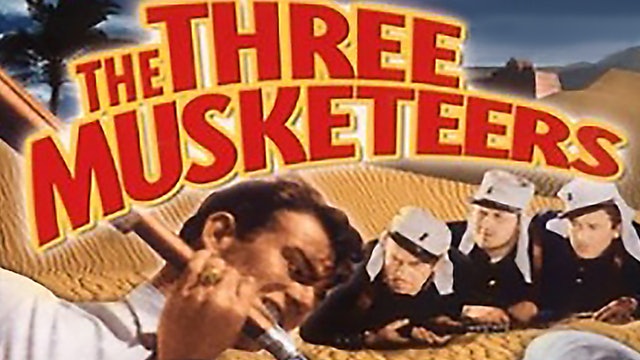 The Three Musketeers
Tom Wayne rescues Clancy, Renard and Schmidt in the Arabian desert and they join him in going after El Shaitan, a bad guy who is never seen as he tries to wipe out the Foreign Legion.
The Three Musketeers (aka Three Musketeers) is a 1933 American Pre-Code film serial directed by Armand Schaeffer and Colbert Clark and produced by Nat Levine for Mascot Pictures.[1] The film serial was loosely based on Alexandre Dumas' novel The Three Musketeers, with the musketeers becoming three soldiers in the French Foreign Legion, and d'Artagnan being reconfigured as Lt. Tom Wayne (played by John Wayne), a pilot in the United States military.
Plot
In the harsh deserts of Northern Africa, the French Foreign Legion provides a military presence. When Lt. Tom Wayne (John Wayne)) is framed for the murder of Armand Corday (Lon Chaney, Jr., the brother of his fiancé (Ruth Hall). He vows to capture the real killer, a mysterious Arab terrorist known only as El Shaitan.
Tom encounters three bumptious legionnaires: Clancy (Jack Mulhall), an Irishman always spoiling for a fight, Renard (Raymond Hatton}, a wily Frenchman and Schmidt (Francis X. Bushman, Jr.) a German who loves sausages). They are the surviving members of a Foreign Legion unit.
Nicknamed the "Devil of the Desert", El Shaitan remains a shadowy figure, hiding his face and his true identity, as a result of which many people are mistakenly suspected of being the cult leader, while other characters impersonate him for their own ends. At a meeting place called, "The Devil's Circle", El Shaitan commands a fanatic desert cult, a secret society formed to fight against the French authorities. Their raids
When Clancy, Renard and Schmidt are trapped by a horde of Berber tribesmen, using the machine gun mounted on his aircraft, Tom quickly stops the attack. The three legionnaires are in constant danger but Tom comes to their rescue many times, acting as a modern-day d'Artagnan. Eventually the trio, plus their new friend, triumph over their adversaries.
Cast
John Wayne as Tom Wayne
Ruth Hall as Elaine Corday
Jack Mulhall as Clancy
Raymond Hatton as Renard
Francis X. Bushman, Jr. (Ralph Bushman) as Schmidt
Noah Beery, Jr. as Stubbs
Al Ferguson as Ali, chief henchman
Hooper Atchley as El Kadur
George Magrill as El Maghreb
Edward Peil, Sr. as Ratkin
Gordon de Main as Colonel Duval
William Desmond as Captain Boncour
Robert Warwick as Colonel Brent
Creighton Chaney (Lon Chaney, Jr.; credited as Armand Corday)
Robert Frazer as Major Booth.